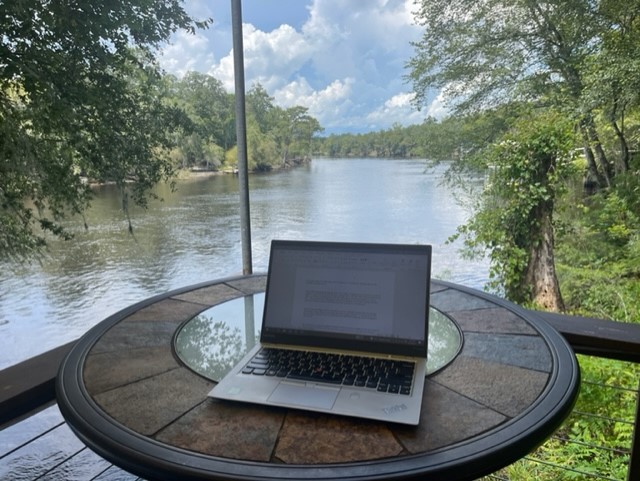 Hi, at this writing it's Friday and a cool 82 degrees at 1 o'clock in the afternoon here on the beautiful Suwannee River.
I think that's astounding considering we're in the middle of August in one of the hottest years on record yet. The Trees are already starting to change colors a bit and I have leaves all over my deck …. could we be looking at an early fall? Man, that would be great because I've got to say…. I've never felt like I was going to get heat sick playing ball until this summer. It's been crazy hot! It doesn't seem to affect the young ones as much as it does this gal!
The two twins that beat us out for first place in my last volleyball tourney were 16 years old, with energy to burn! They're an impressive duo from Canada whom we've met and lost to in a previous final. I believe I am even older than their father! But at this age, I'm just thankful to still be at it!
In our property management world, our summer turnover season is starting to wrap up as most of our properties have been turned over with new tenants all moved in. Just one more left and unfortunately, it was a huge mess. Nothing that elbow grease won't handle but to the untrained person, it can look completely trashed! I know better. A junk haul, full paint, yard and maid service, and we're back up and running. As our maintenance turnover article this month lays out, we should have this complete in about 2 weeks.
The student tenants lived in the property for 4 years so most of the paint expense would be a normal Owners cost. The rest of the damage is tenant related and will come from their security deposit. We also have co-signors to look to if the security deposit doesn't cover it all.
It's easy for me to not be upset over this kind of thing being I've done this for a living for 30 + years and have my own rentals too. These years of experience have allowed me to see it for what it is. Elbow grease and money damages. Both of which we will take care of for the homeowner who is currently rightly upset and disappointed in these tenants.
Spruced up flower bed with new fresh plants and mulch
Of course, initially, Owners can be upset with us for "letting this happen". But all the strict screening and periodic inspections on the home do not stop some tenants from giving up taking care of the home once they know they're moving. Most damages occur in the last three months of the lease. But no worries! We will have it ship shape in no time and new tenants moved in, just as we have all of our other properties that turned this season.
The sales market has started to turn. I'm sure you are seeing all the scary, fear-mongering, articles about a potential housing bubble and bust. But I don't believe that is what's happening. Yes, we have seen extraordinary value increases over the last several years spurred on by politics, Covid, and taxes. Some areas had over 30% appreciation rates. Our area saw 16-25%. Before Covid, the national average was around 5%. So, it seems we will be slowing back down to a lower normal rate of appreciation. Yes, probably the last 6 months of buyers overpaid a bit. But here in Florida where our politics, taxes, and great weather is still drawing northerners in by 1000 a day, I doubt we will see prices roll back much.
I for one, am happy to see values normalize. I hate it when I sell a home to a friend that is having to pay 50k more than it was worth just a year ago. It's hard to answer that typical buyer question that every buyer asks their agent; "do you think it's worth it"? My answer of late has been "NO!!!! But that's what it is, unfortunately"
I can't tell you the number of investors wanting me to "find them a deal". There are no good deals in this market! Unless you work the off-market property and do the "driving for dollars" scenario (finding rundown properties tracking down their owners and talking them into selling) or work the tax liens approach and recently distressed properties.
Built new rock flower bed and fresh Ginger plants
Jeff and I were extremely fortunate to have had a close realtor friend tell us about a few of the ones we bought from distressed owners before they hit the market. However, now that the market has started to turn, we may start seeing more foreclosures over the next several months. My crystal ball is telling me to wait about a year or maybe two before I start looking for another investment property. That is partly because I still have some homes to renovate from our recent purchases, but I also want to let the market cool before I look for more distressed properties. I do still get a few off-market properties that come across my desk that could be a good deal. If you want to be added to my investor list, just email me and I will shoot them your way. We are happy to share them with you along with their potential cap rate.
Bamboo planted 2 yrs ago on right -newly planted bamboo on left
I don't have any fun vacation pictures to show as I have been busy with work and being Jeff's personal nurse due to his brand-new knees. Double knee replacement just three weeks ago! You can't hold this man down. Just two weeks into it and he is out mowing the yard and three weeks in; walking two miles. He is religious with his PT, and everyone is so impressed with his progress. He will be out on the court digging balls in no time!
Cleared fence line added 35 new clumping bamboo plants
Staying home did leave me time to work in the yard a bit, so the only pictures I have on my phone to show off are of some of our improvements. I knew with Jeff being down he would be looking at the overgrown and weed-filled flower beds and be anxious because of not being able to do anything about it. We usually try to accomplish a project every Saturday before playing on the water. So…. I snagged one of his guys to help me and we went to work! Jeff could have done it all in half the time I am sure but …. Now it is done, and we can sit back and enjoy it as the weather cools. I hope you guys get out there and enjoy this cooler weather. I know I will as we play on the water this weekend.
Tanya Chappell,
Broker/owner