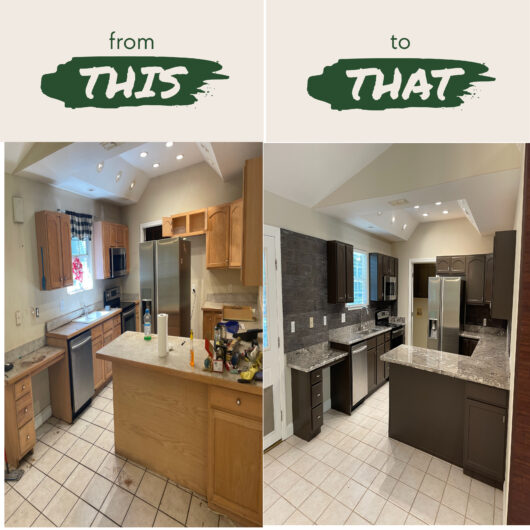 When you start planning for a kitchen remodeling, it's easy for the dollar signs to stack up. And whether your budget is big or small, the cost of a kitchen renovation can quickly get out of control! Since you spend a lot of time in the kitchen, it's important to make it more comfortable and it is possible to renovate on a budget. 
An easy way to save money in your kitchen renovation is to refurbish your cabinets instead of fully replacing them. 
Refurbishing your cabinets is far less expensive than replacing and the cabinets aren't sent to the landfill so it's environmentally friendly. These days with supply shortages and price increases a good cabinet refurbishment is often the best way to go. If your existing cabinets are built with quality wood but the stain is wearing or the color isn't the look you're going for anymore, you may want to consider painting them.
(Before Photo)
Painting cabinets is not an easy or quick job. It requires several coats of premium paint with sanding between coats and lots of drying time between each coat. It is best to remove all the hardware, doors, and drawer fronts before you get started. It can be very time-consuming and requires good attention to detail. With that said, it is easy to understand why it isn't as cheap as painting walls, but it is still a lot cheaper than a full replacement.
(A closer look to details)