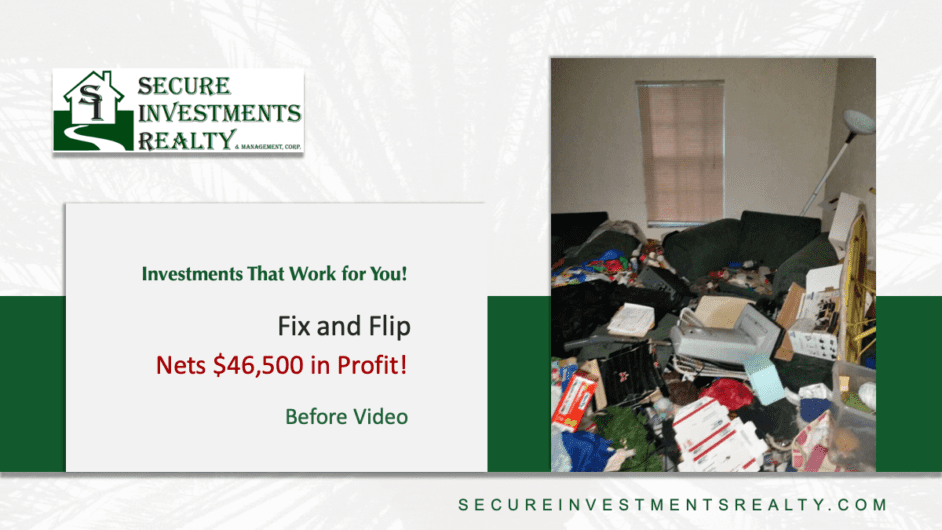 Fix and Flip or Renovate and Rent?
In this article we go over 2 very profitable investment options that our clients hire us to help them with.

In the first section we show you how we fix and flip properties for our investors. In the second section we go over how we increase revenue through updating and modernizing the property for our owners who provide rental housing.

Do not miss our before and after videos on each of these homes. You will see the amazing transformation of these properties that earn our clients top dollar on their investments!
Please use the Table of Contents below to quickly navigate.
This Fixer Upper Netted our Investor a Huge Profit!
We were contacted online by an investor who wants to establish an ongoing relationship with a property management company in Gainesville FL. He purchases properties wholesale and wanted the expertise we provide with home evaluations, ROI calculations, renovation of the properties and the resale when the rehab is complete.

Since he is buying the properties sight unseen, he relies heavily on our input and ability to turn a profit for him. Timing is very important for an investor when flipping. Every day the home is off the market it costs money, going back to the old adage "Time is Money".

This is why efficiency and trust are integral to the partnership. As a property management company, we have established relationships with vendors and contractors to complete repairs and updates on a home in a timely fashion. The expertise we bring to the table keeps the project moving forward fluidly.

Check out our video below to see how we turned this property around and netted our client $46,500 in profit!
Investment Home Renovation Before and After Video
Repairs and Upgrades Increase Marketability
After gaining access to the property, we removed the trash, debris and furniture within the first couple of days. It cost about $1000 to clear this home of contents.

There were boxes, clothes, left over food, and furniture throughout the home. Not a single room was clear of these items.

We waded through and stepped over junk that was knee high! It made it impossible to walk. We had no idea if any critters were hiding in wait. Luckily, that was not the case!
Once we were able to walk through the house unimpeded we had the ability to really identify additional repairs needed. We provide this feedback to the owner with a cost estimation for the work that needs to be completed.

We laid hardwood floors in the main living areas and bathrooms and put carpet in the bedrooms. The entire home was painted with the same neutral color in a soft tan. The ceiling fans were replaced with new modern models to help pull the rooms together.

The counter tops throughout the kitchen and both bathrooms were replaced with the same style to maintain an aesthetically pleasing consistency. The kitchen counters were in bad shape, they were lifting up and very warped. Since the cabinets were in really good condition throughout the home, we made minor repairs and left them in place.

We put the final touches on the home by removing the overgrowth in both the front and back yards, fixing the wood rot and fresh paint. The back yard looked like a jungle. If you did not have an opportunity to check out the video above, please do!
Increased Home Value Commands a Higher Sold Price!
The home sold quickly after we put it up for sale! The investor gained an eighty-five percent increase property value! See the purchase and sale breakdown below:

The home was purchased for $80,000
$22,000 was spent on upgrades and repairs
The property SOLD for $148,500
This investor netted $46,500 in PROFIT!
After Renovation Photo Gallery
Are you interested in a Fix and Flip or our Property Management Services?
Contact us by filling out the form below!
How Your Investment Property Can Earn You More By Renovating It!
In this video we show you how we increased an owner's monthly rental income with a minimal home renovation. Putting our Gainesville FL Property Management Team to work for you! The first part shows the condition of the home and needed repairs. We walk you through a list of items to be completed. The video then transitions into how the home looks after the improvements.

It is not necessary to over spend on options for the home. In fact, doing so will dip into your profit and may not garner you any extra revenue or bring you a higher sales price.
Historic Home Rehab Before and After Video
Secure Investments Realty took over the property management of a historic home in Downtown Gainesville. After performing an evaluation, we determined the house was not in livable condition. There were severe repairs that required immediate attention.

These are not the words homeowners want to hear. Investment properties are purchased for just that, investment. Having to fund major repairs or a renovation can be nerve-racking, but it does not have to be!

This is where our expertise comes in! See how we transformed this home in major disrepair to producing more income for our client.

The Downtown area of Gainesville is up and coming due to the revitalization efforts. This charming section of town with mature live oak trees and historic homes is at the heart of it all! It is a mix of residential, commercial and multi-family properties. It is in walking distance to the farmer's market, boutiques, trendy restaurants, and Bo Diddly Plaza.

It's all about location, location, location!

Let's walk through the mini renovation on this property.
Gainesville FL Property Management Services Include Property Renovations!
We removed the screen enclosure and repaired the wood rot. The concrete stairs had damage, the exterior needed fresh paint and the porch light replaced. The entire roof needed to be replaced. It was leaking and caused major damage throughout the home.
Taking a home and sprucing it up helps it stand out! Updating the landscaping, fresh coat of paint and repairing damage makes a significant difference. If your investment does not need a complete renovation, there is no need in spending the money. You want to minimize your costs, but ensure all needed repairs are fixed and spend wisely on updates. It is easy to get excited and try to over-improve. It is also just as easy to not improve enough. We will guide you through the this process to maximize your return and minimize your expenses.
The the mantle in the living room needed paint and both the ceiling fan and light fixtures replaced. The water damage from the roof leak caused the paint to peel and drywall damage. It needed to be patched and painted.
​
When the home was built plaster was a very popular material. It can be found throughout the home. It is not that easy to work with. It takes time, patience and skill to properly repair plaster. The biggest issue is consistency of the material.
​
Now when you walk into the living room it just pops! It is so inviting! When a prospective tenant walks in and it immediately feels like home, the chances of renting it fast are high!
The wood floors throughout the home were dingy and scuffed. After they were refinished, the floor's rich colors really shined through.
The kitchen needed all new appliances and new flooring. The water heater was replaced and a nice removable enclosure was added.
A plumbing leak caused extensive damage, requiring the exterior wood to be replaced. The counter top was replaced and we were able to save the cabinet base.
View Our Property Owner's Frequently Asked Questions!
Now ​the kitchen is bright and welcoming! You can see yourself enjoying time with friends or family!

The sunroom is just off the kitchen. It had ceiling damage and the windows needed to be repaired. Since the home is older, it made more sense to seal the windows and make them inoperable.

This way we were able to preserve the natural historic beauty of the original windows and not have to replace them. This helped reduce costs for the owner. It also solves any future operability issues because they are permanently closed. The floors were refinished with new paint on the walls and all drywall and plaster damage fixed.

The floors came out beautiful! Make sure to check out the picture gallery below to view all of the before and after pictures!
The bathroom needed an uplift! The floors were updated with new tile and the tub and tile surround were acid washed. A new vanity, mirror, toilet, sink and light fixtures were installed.

The remaining rooms of the home were given a fresh coat of paint, refinished floors, window and drywall repairs. ​
​
It is amazing at what a small facelift will do for a property.
It seems like it was just paint and flooring, but once you get into renovating an older home you discover more issues along the way. It does not always go smoothly, you find the material is old or difficult to match. We recommend adding 3 or 4 weeks to your renovation time frame for these reasons.
How This Remodel Pays for Itself and Brings in 75% More Revenue

With the renovation completed, we are able to rent the property for $600 more a month! A very nice increase in revenue for our homeowner!

We are not just any property management company! We have a vested interest in helping you increase your wealth!
Client Testimonial
I picked Secure Investments realty just based off the reviews online and now I know why those reviews are so helpful. Tanya and her team are wonderful to work with.

They are dedicated and thorough and will be with you every step along the way. They provide continuous communication throughout the process and answer any questions you may have.

They were able to post my property and get it rented within 30 days! Talk about a dedicated team! The Secure Investments team is professional, friendly, dedicated, and a pleasure to work with.I'm very happy with my choice to go with Secure Investments Realty and you will be too!
Is it Normal Wear and Tear, or Damage
Techniques to spruce up curb appeal!
How much more money could your rental home be making you?